The Live Lounge is a live performance platform where bands and singers often perform covers, as well as their own songs.
Performances from the Lounge have become popular in recent years, with many going viral online, mainly due to a number of famous singers reimagining songs in unexpected ways, usually from a musical genre they are not known for.
One Direction
One Direction's first Live Lounge performance was November 12, 2015, the day before the worldwide release of their fifth album Made in the A.M. Their performance was confirmed on November 9th at the R1 Teen Awards. The band and the radio station encouraged fans to suggest songs for them to cover on Twitter. The band performed "Infinity", "FourFiveSeconds" and "Torn". 
Niall uploaded a photo from rehearsals onto his official Instagram[1] and tweeted his excitement about the performance on November 11th, saying "Tomorrow 5pm . US and @gregjames for #1DR1LiveLounge. Make sure you're listening. Got some surprises for ya."[2]
Performances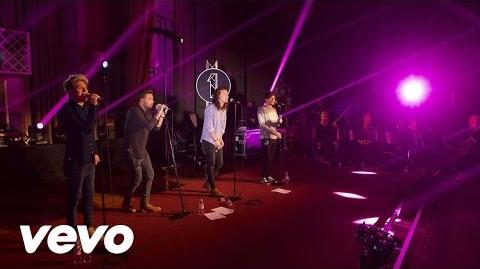 References
Ad blocker interference detected!
Wikia is a free-to-use site that makes money from advertising. We have a modified experience for viewers using ad blockers

Wikia is not accessible if you've made further modifications. Remove the custom ad blocker rule(s) and the page will load as expected.