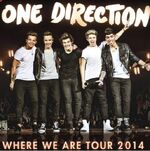 2013
After a 7 day build-up, the Where We Are Tour was revealed to be the band's first world stadium tour and the first 13 dates were released.
As part of the Take Me Home Tour, One Direction performed in Zurich, Switzerland at Hallenstadion.
Ad blocker interference detected!
Wikia is a free-to-use site that makes money from advertising. We have a modified experience for viewers using ad blockers

Wikia is not accessible if you've made further modifications. Remove the custom ad blocker rule(s) and the page will load as expected.