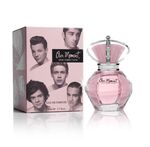 2012
2013
Our Moment was released in Harrods, London, England.
One Direction attended the 2013 MTV VMA Awards. They won Best Song Of The Summer award for "Best Song Ever". Lady Gaga left the ceremony in protest after One Direction were booed during their acceptance speech.
2015
Ad blocker interference detected!
Wikia is a free-to-use site that makes money from advertising. We have a modified experience for viewers using ad blockers

Wikia is not accessible if you've made further modifications. Remove the custom ad blocker rule(s) and the page will load as expected.