Comic Relief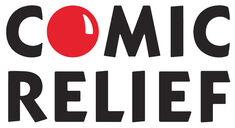 Information
Format
Telethon
Created by
Richard Curtis,


Lenny Henry

Country
United Kingdom
Production
Locations
BBC Television Centre (1988–2013)


The London Palladium (2015)

Running time
Various
Broadcast
Channel
BBC One
Run
February 5, 1988 - present
Comic Relief
 is an operating British charity, founded in 1985 by the comedy scriptwriter Richard Curtis and comedian Lenny Henryin response to famine in Ethiopia. The highlight of Comic Relief's appeal is 
Red Nose Day
, a biennial telethon held in March, alternating with sister project Sport Relief. Comic Relief is one of the two high profile telethon events held in the United Kingdom, the other being Children in Need, held annually in November.
Background
Every year the charity holds an event called Red Nose Day to help raise money and awareness.  One Direction recorded a cover of Blondie's One Way or Another and The Undertones' Teenage Kicks titled One Way or Another (Teenage Kicks) to help raise money for Comic Relief.  During the music video One Direction are seen wearing Red Noses for Red Nose Day in some scenes. The money made from the song was donated to the charity.
Red Nose Day History
Red Nose Day is the main way in which Comic Relief raises money. The first Red Nose Day (RND) was held on 5 February 1988, when it was launched as a National Day of Comedy. It was held again the following year and thereafter every other year since then. They have been held on the second or third Friday in March. The concept was created by Wendy Crossman (née Robinson), the fundraising director of Comic Relief. Many schools have red-themed non-uniform days (i.e. the pupils have to wear something red as part of their non-uniform attire). The day culminates in a live telethon event on BBC One, starting in the evening and going through into the early hours of the morning, but other money-raising events take place. As the name suggests, the day involves the wearing of plastic/foam red noses which are available, in exchange for a donation, from Sainsbury'sand Oxfam shops.
One Way Or Another (Teenage Kicks)
One Direction filmed the music video for the song in New York City, London, Tokyo and Ghana. The single went to #1 in the United Kingdom. The music video has over 262 million hits on YouTube.
References
External Links
Ad blocker interference detected!
Wikia is a free-to-use site that makes money from advertising. We have a modified experience for viewers using ad blockers

Wikia is not accessible if you've made further modifications. Remove the custom ad blocker rule(s) and the page will load as expected.