Eleanor Calder

Information
Full name

Eleanor Jane Calder

Born

July 16, 1992 (age 26)

Resides

London, England, UK and Manchester, England, UK

Nicknames

El

Occupation

Fashion blogger
Eleanor Jane Calder
 is a graduate from the University of Manchester, where she earned a degree in Sociology. She is currently working as a fashion blogger.
She originally dated Louis Tomlinson from September 2011 to March 2015. They rekindled their relationship again as of January 2017.
Background
Eleanor is an only child.[1][2] Her parents are Kim Hickman and Murray Calder. She attended St. Marylebone School in London for secondary education, before attending the University of Manchester. She graduated in 2014 with a degree in politics and sociology. She has previously worked as a store assistant for clothing store Hollister.
Relationship With Louis
Eleanor and Louis were reportedly introduced to each other by a friend of Harry's around September 2011, though it was later discovered she had mutual friends at Modest Management (see below[3]). Louis and Eleanour - dubbed "Elounor" by fans - became exclusive in October 2011. She often accompanied him to work related events, social events and on tours. The couple split on March 7, 2015, with the news confirmed two weeks later on March 21. While neither elaborated on the reasons behind their split, People Magazine reported "They tried really hard to make it work but it was just impossible – he's away for nine months a year and they just grew apart."[4] 
2017 Reunion/Airport Altercation
Louis originally unfollowed Eleanor on Instagram on December 4 2015, then re-followed her again on January 29, 2017. On 13 February 2017, Eleanor and Louis met fans in Los Angeles[5]. On February 16, Eleanor re-followed Louis on Instagram. An article published in UK tabloid The Sun on February 19 confirmed the two were seeing each other again, and Louis has since confirmed their reconciliation to various press outlets.
On March 3, 2017, Louis and Eleanor became involved in a brief altercation at LAX airport with a photographer and three alleged fans. After the photographer startled Eleanor, Louis attempted to block the paparazzo from taking more pictures. The two grappled and fell to the floor. When a woman began filming Eleanor on her phone, Eleanor tried to knock the phone out of her hand. The woman responded by cornering and attacking her. Louis rushed to pull the woman away, and the two fell backward. Airport staff stepped in shortly afterward. Citizen arrests were made and Louis was booked with simple battery and held in an LA jail for one hour. Louis's legal team issued a statement, saying: "The paparazzi provoked and caused the altercation that occurred with Louis.  It's not the first time that a paparazzi has created an altercation with a celebrity.  While the altercation was going on with the paparazzi, three other individuals were attacking his girlfriend during this incident and he came to her defense[6]." No charged were filed.
Tomlinson has stated his debut solo album will detail his path to reconciliation with Eleanor, stating the tracks are a chronological map of the year they spent apart. He has confirmed the tracks "Miss You" and "Always You" are about Calder, and clarified "Back To You" is not about her.
Career
In 2015, Eleanor established a fashion blog called The Trend Pear, with longtime friend Max Hurd.[7] The blog was discontinued in 2017.
Controversy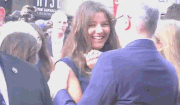 Fans and media alike have speculated Calder may be a hired girlfriend. In 2013, Eleanor attended the premiere of One Direction's concert film
This Is Us
. As she walked the red carpet, she hugged various members of One Direction's management team, Modest Management
[8]
. In 2015, a fan discovered mutual connections between Eleanor and Modest's chairman Harry Griffiths: she had attended university with Griffith's son.
[9]
This is in direct contrast to an official story alleging Harry Styles introduced Eleanor to Louis. In 2013, a journalist attending London Fashion Week tweeted: "
i can't concentrate on the clothes at topshop because louis tomlinson is front row pretending to be straight #lfw
" in reference to Louis attending the runway show with Eleanor
[10]
. Louis has criticised and denied the continued speculation surrounding his girlfriend, calling it "disrespectful". In March 2016, Eleanor fiercely defended friend
Sophia Smith
online, after a journalist for Now Magazine allegedly tried to fabricate a "tell-all" interview from Sophia about her split from Liam, and his subsequent dating of pop star
Cheryl
.
[11]
Calder referred to the journalist as a "prick".
Gallery
Trivia
She has a dog named Bruce.
She appeared to be the maid of honour at Louis's mum's wedding, though Louis's sister later clarified they never officially decided on one.
She has five tattoos: an elephant, a cross, an arrow, a feather and a heart.
Eleanor and her friend Max Hurd established their own company called CalderHurd Ltd. and registered it. They ran a fashion blog called The Trend Pear untill 2017.
Eleanor attended London Fashion Week in 2015.
Her zodiac sign is Cancer.
Her height is 5'8" (1.73 m).
External Links
References