Harry Styles

Information
Full name

Harry Edward Sytles

Born

February 1, 1994 (age 21)

Hometown

Holmes Chapel, Cheshire
England, United Kingdom

Nickname

Hazza, Barry, H

Resides

In both London, England and Los Angeles, CA

Family

Des Styles, father
Anne Cox, mother
Robin Twist, stepfather
Gemma Styles, sister

Romances

Taylor Swift (ex-girlfriend)
Caroline Flack (ex-girlfriend)
Felicity Skinner (ex-girlfriend)


Affiliations

One Direction, Ed Sheeran, Azoff Family
Harry Edward Sytles
 (born February 1, 1994) is a member of
One Direction
 along with
Liam Payne
, 
Louis Tomlinson
, and 
Niall Horan.
He is the youngest member of the group.
Early Life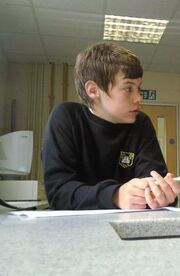 Harry Styles was born in Redditch, Worcestershire, England to Des Styles and Anne Cox. He has an older sister, Gemma. When Harry was seven years old, his parents divorced. His mother remarried in early June 2013 to Robin Twist.
[1]
As a child Harry loved singing. He's listed Elvis Presley and The Rolling Stones as some of his musical influences.
Growing up Harry lived in Holmes Chapel, Cheshire, England and attended Holmes Chapel Comprehensive School, a state comprehensive school.
Musical Career
Main article: One Direction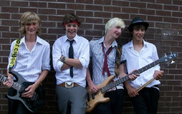 Harry was the lead singer for the band White Eskimo with band members Haydn Morris (lead guitarist), Nick Clough (bass guitarist), and Will Sweeny (drummer).
[2]
They came together to compete in a Battle of the Bands. The band won the competition, and it helped Harry realize that he loved performing in front of people.
In 2010, when he was sixteen years old, Harry auditioned for the seventh season of The X Factor. He wanted a professional opinion on his singing because up until then his mom was the one telling him he was a good singer. Before his audition he said, "Singing's what I want to do, and if people who can make that happen for me don't think that I should be doing that, then it's a major setback in my plans."
Harry sang "Isn't She Lovely" and received positive comments from
Simon Cowell
 and
Nicole Scherzinger
, while
Louis Walsh
had doubts on whether he was ready to progress in the competition. At bootcamp, Harry sang "Stop Crying Your Heart Out" before being rejected and put into One Direction.
Following The X Factor, One Direction signed a record contract with Sony Music subsidiary Syco Music. They released their studio album, Up All Night. One Direction have released three more albums since then, Take Me Home, Midnight Memories and FOUR. Their fifth album is due in late 2015.
In 2014, Harry co-wrote some songs with singer Meghan Trainor and also wrote a song called Just A Little Bit Of Your Heart, for Ariana Grande's album My Everything.[3]
Personal Life
Family
Harry is very close to his mother, Anne, and his sister, Gemma. He has several tattoos dedicated to them.
Relationships
Caroline Flack
Harry allegedly dated Caroline Flack in 2011, when he was 17 and she was 32. Their relationship caused widespread controversy because of their fifteen year age gap. They met in 2010 while Harry was a contestant on The X Factor, and Caroline was the co-host of the companion show, The Xtra Factor. Harry admitted to being attracted to her. Romance rumors grew after October 16, 2011, when it was reported that Harry and Caroline were seen kissing at an X Factor after party. Both denied there was a relationship. Rumors went unproven until December 2011 when he was seen leaving her London home early in the morning after having allegedly spent the night.
Throughout the relationship, Caroline received intense media scrutiny. Although at the time neither confirmed they were together, in January 2012 Harry tweeted that the relationship had mutually ended.[4] In May 2015, Flack said of the relationship: "I'm not going to ever apologise for it because there was nothing at the time that was serious or bad and nobody was getting hurt."[5]
Taylor Swift
Harry met Taylor Swift backstage at the Kids Choice Awards on March 31, 2012. Taylor was filmed dancing along to
What Makes You Beautiful
during the show. After some rumored dinner dates, the two allegedly began dating in November 2012, after Taylor was seen wearing a variation of the paper plane necklace Harry often wore at that point. Throughout December 2012, they were photographed together numerous times, both in New York, where Taylor moved to from Nashville, and in Harry's hometown, Cheshire. They shared a New Year's Eve kiss in Times Square. The couple broke up in early January 2013, for unknown reasons. Swift has hinted in interviews that Harry was not as in love with her as she was with him. Taylor wrote several songs about her relationship with Harry: Style, Out Of The Woods, All You Had To Do Was Stay, Wonderland and I Know Places, all of which appear on her 1989 album. Taylor spoke to Rolling Stone about her song Style, stating she "wasn't even sorry" about the title (likely referencing Harry's last name). She is seen holding a paper airplane necklace in the music video. She also releases thousands of paper airplanes into the crowd during her 1989 Tour performance of Out Of The Woods. Out Of The Woods references a snow mobile accident she and Harry were in where Taylor said her "life flashed before my eyes". In late 2014, Harry defended Taylor's right to write songs about him, as he writes songs and sings about relationships, too. In 2015, One Direction released
Perfect
, a song co-written by Harry, featuring the lyric "If you're looking for someone to write your break-up songs about, baby I'm perfect for you", which many considered a diss or reference to Taylor. Soon after, Taylor commented that she wrote Out Of The Woods about a relationship she felt was full of "anxiety" because she never knew "what was going to happen next".
Tattoos
Credits
My Everything (Ariana Grande)
Quotes
Trivia
External Links
References
7.
Harry Styles Height - How Tall
. allheight.com