Harry Styles (album)

Information
Released

May 12, 2017

Recorded

2016, 2017

Genre

Pop, Rock

Length

TBA

Label
Singles from Harry Styles (album)

"Sign Of The Times"
(Released: April 7, 2017)
Harry Styles is the self titled debut studio album from Harry Styles and will be released globally on May 12, 2017 through Erskine Records. This marks the start of his solo music career after pop boy band One Direction began a hiatus in December 2015. The album was preceded by the release of debut single Sign Of The Times on April 7, 2017. It will be the second studio album released by a One Direction member, the first being former member Zayn Malik's Mind of Mine, which was released March 25, 2016.
Background
Harry Styles told Nick Grimshaw during a BBC Radio 1 interview on April 7, 2017 that he began album production in February 2016. After winning a role in Christopher Nolan's Dunkirk, Styles took time away from music to shoot the film. He returned to the album as of July 2016, and completed production in December 2016. In February 2017, Columbia Records CEO Rob Stringer announced the album was finished and would soon be released. A television advert was aired on March 25, 2017. Styles unveiled the album cover and track list via Instagram on April 13, 2017.
In his April 2017 Rolling Stone interview, Harry revealed a working album title was "Pink", and stated: "I wanted to step up. There were songs I wanted to write and record, and not just have it be 'Here's a demo I wrote.' Every decision I've made since I was 16 was made in a democracy. I felt like it was time to make a decision about the future  ...  and maybe I shouldn't rely on others".[1]
In his April 26 televised interview on Quotidien, Harry elaborated on the creative process behind the album, stating: "I worked with photographer Harley Weird. I'm a massive fan of her work, and it was an amazing opportunity to work with her. It means something to me and if it means anything to anyone else, I wouldn't want to take away from that by explaining it. The cool thing about photos and art is you can just leave it, you don't have to explain it". He also clarified claims made in the Rolling Stone interview, where he appeared to specify the album was about a woman, stating: "The album is more about me than it is about anyone else. I put a lot of work into it, so I don't feel like it revolves around a woman[2]".
Live Performances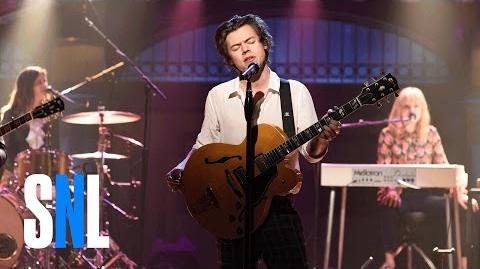 References
Ad blocker interference detected!
Wikia is a free-to-use site that makes money from advertising. We have a modified experience for viewers using ad blockers

Wikia is not accessible if you've made further modifications. Remove the custom ad blocker rule(s) and the page will load as expected.