Irving Azoff

Information
Full name

Irving Azoff

Born

December 12, 1947 (age 69)

Occupation

music executive, manager, CEO
Irving Azoff
is an American music mogul, managing a number of entertainers. He is a close friend of
Harry Styles
, whose family often takes vacations with the Azoff family. Irving's son, Jeff Azoff, became Harry's manager as of February 1, 2016. In 2012, Irving was named the most powerful person in the music industry.
Career
Irving Azoff is the manager for artists such as Christina Aguilera, Journey, the Eagles, Joe Walsh, Van Halen, Thirty Seconds to Mars, Steely Dan, Maroon 5, No Doubt, Triumph (band), Lindsey Buckingham of Fleetwood Mac, Jon Bon Jovi, Bon Jovi, and entertainer Chelsea Handler.
He is CEO of Azoff Entertainment and was previously CEO of Ticketmaster and Live Nation.
Relationship with Harry
Harry met and became close with the Azoff family in 2013. He was seen regularly attending parties and lunches with them, as well as generally spending vacation time with them. The Azoff family is close friends with Harry's family too, in particular Harry's mother Anne.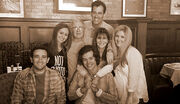 On February 1, 2016, it was confirmed Harry had split from former management team Modest Management and Jeff would become his manager. As of July 2016, no business ventures involving Harry have been publicly announced as yet. Rumors of a solo record are still unconfirmed.
One Direction
Jeff and his wife Glenne attended numerous concerts from One Direction's Where We Are Tour and On the Road Again Tour. In September 2015, Glenne Azoff created the official One Direction snapchat, which ran until December 2015. On October 14, 2015, after fevered speculation he was becoming One Direction's new manager, Azoff tweeted "1D still in the capable hands of Modest. Golf guys should stick to golf…."[1]. As of December 2016, all members of One Direction except Niall Horan, have since parted ways with Modest Management.
External Links
References
Ad blocker interference detected!
Wikia is a free-to-use site that makes money from advertising. We have a modified experience for viewers using ad blockers

Wikia is not accessible if you've made further modifications. Remove the custom ad blocker rule(s) and the page will load as expected.