Louis Tomlinson

Information
Full name

Louis William Tomlinson
Louis Troy Austin (birthname)

Born

December 24, 1991 (age 23)

Hometown

Doncaster, South Yorkshire
England, United Kingdom

Nickname

Tommo

Resides

London, England

Family

Troy Austin, father
Johannah Tomlinson, mother
Georgia Austin, half-sister
Charlotte "Lottie" Tomlinson, half-sister
Félicité "Fizzy" Tomlinson, half-sister
Daisy Tomlinson, half-sister
Phoebe Tomlinson, half-sister
Doris Deakin, half-sister
Ernest Deakin, half-brother

Romances

Eleanor Calder (ex-girlfriend)
Hannah Walker (ex-girlfriend)

| | | |
| --- | --- | --- |
| " | Live fast, have fun, be a bit mischievious. | " |
Louis William Tomlinson (born Louis Troy Austin; December 24, 1991) is a member of One Direction along with Harry Styles, Liam Payne, Niall Horan, and former member Zayn Malik. He is the eldest member of the group.
Early life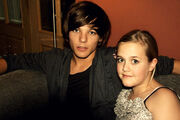 Louis was born in Doncaster, South Yorkshire, England to Troy and Johannah. His parents split up when Louis was young. When his mother remarried, Louis took on his stepdad Mark Tomlinson's name.[1]
He has five younger half-sisters and younger half-brother by his mom: Charlotte, Félicité, twins Daisy and Phoebe and twins Doris and Ernest. He has one younger half-sister, Georgia, by his father. Mark and Jay divorced in 2011. His mother married Daniel Deakin in 2014. He was a sixth form student at Hall Cross School, a state comprehensive school and previously a pupil at The Hayfield School. While he was a student at Hall Cross, Louis starred in several Scholastic musical productions at this school, including Grease, which sparked his interest in performing.
Musical Career
Main article: One Direction history
Louis auditioned for The X Factor with "Hey There Delilah" by Plain White T's. He received three votes out of the three judges present, and was sent to Bootcamp. At Bootcamp, he sang Bob Dylan's "Make You Feel My Love" before being rejected, and put into One Direction.
Following The X Factor, One Direction signed a record contract with Sony Music subsidiary Syco Music . They released their studio album, Up All Night.
In April 2015, it was announced that Louis would be starting his own record label, an imprint of Simon Cowell's Syco label.[2] Louis said of the business venture: "To be given the opportunity to potentially give new artists a platform is an incredible feeling. I hope to sign some really exciting new artists down the line". It was also announced that he had signed former X-Factor contestant Jack Walton and would eventually sign the winning act of upcoming reality series Be In The Band.
Personal life
In late May 2014, footage from Louis' phone was leaked by The Daily Mail, revealing Louis alongside Zayn smoking cannabis in Peru during the month prior. Additional content in the video included the two boys insulting the boys' official fan book stating it was no longer the type of content their fanbase wanted to see and wasn't artistic enough. Further controversy was created due to Louis' illicit use of the N-word and using "gay" in a derogatory fashion in the video. Liam Payne took to Twitter to apologize for Zayn and Louis's actions, defending them by stating that their young age and immaturity lead to the mistake.
It was announced on July 14, 2015 that Louis is expecting his first child with LA based stylist, Briana Jungwirth. While there has been no official statement from Louis as of yet, Simon Cowell has confirmed the news.
Relationships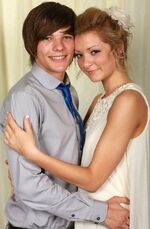 Hannah Walker
Louis dated Hannah Walker throughout his time on The X Factor. She attended Hall Cross Academy with Louis, and they met through the school's production of Grease. Hannah played Frenchy and Louis played Danny (view image). They started dating on March 18, 2010.
It's rumored that Hannah encouraged Louis to audition for X-Factor. They dated for about a year before breaking up in July 2011. Louis was busy with One Direction recording their debut album, and it became increasingly hard for him and Hannah to see each other. He reportedly decided to break it off with Hannah because he wanted to focus on the release of the band's debut single, and their upcoming album. After the break up, both said on Twitter that they were still friends.[3]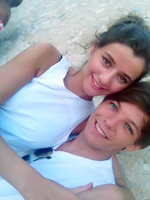 Eleanor Calder
Louis and Eleanor were introduced to each other around summer 2011 by Harry. Harry and Eleanor knew each other because Harry was friends/co-worker with one of Eleanor's friends. They met one day when Louis tagged along with Harry to meet up with the friend, and Eleanor came with her friend as well. On September 14, 2011, Eleanor accompanied Louis to celebrate Niall's birthday. They dated for a period of time before becoming exclusive in November 2011. The two broke up in March 2015, and neither have publicly spoken about the split. In May 2015, Louis confirmed on James Corden's The Late Late Show that he is currently single, but did not elaborate.
Tattoos
Credits
Quotes
"I like girls who... eat carrots!" (X Factor Video Diary 2)
" 'NO' Jimmy protested!" (X Factor Video Diary 7)
"Have you quite finished?" (Common Quote)
"We're not perfect, we're not clean cut. We're just trying to be ourselves" (Common Quote)
[On songwriting] "I think, for me, there's been a few times where fans have held up "You Make Me Strong" signs and everyone's held that up. And, I'd be singing the song, going through the motions, and it actually takes something as blatant as that to go, "Hang on a minute. That's – I wrote on that song. These are the references that I've said." It's an amazing feeling. It's exactly what you would want as an artist. It's very important for us, I think." (Where We Are film, 2014)
[On musical taste] "My personal tastes... I actually like quite a bit acoustic and more mellow kinds of things. I quite like American music, like The Fray, I'm a massive fan of them, and The Killers. I also like more acoustic stuff like Ed Sheeran, I like this English songwriter James Morrison and another singer called Ben Howard." (Billboard interview, 2012)
[On his Twitter feud with Zayn] "I've always had trouble biting my tongue". (The Late Late Show, 2015)
"Feel free to insult me but you don't have the right to insult our fans" (to someone criticizing fans on Twitter)
[On being considered the unofficial group leader] "I've sometimes felt like that, but to be honest most of the time I'm the immature one who needs to be told to get focused. I'm a bit of a perfectionist so I have to be kind of be on board with every minor detail and [I'm] quite opinionated." (Billboard interview, 2012)
[On songwriting] "It's a big thing to sit in a room and talk about your feelings, your deepest love, whenever you got your heart broken. So you have to be able to be comfortable for the good stuff to come out." (One Direction TV Special, Recording Four, 2014)
[On the No Control fan project] "I think it's a perfect example of how unique and incredible and passionate our fans are" (Billboard Awards, 2015)
Trivia
He used to go to the hospital all the time with his mum to help her look after the babies.
He is the messiest in the band.
He smokes.
His celebrity crush is Natalie Portman.
He has a fear of birds and growing old.
His favorite color is red.
He is signed on a non-contract basis with his hometown club, the Doncaster Rovers.
He plays football for charity.
His zodiac sign is Capricorn.
He had his own custom "Mystery Machine" van made for him.
He is one of the main songwriters for the band.
He was the best man at his mum's wedding.
He started his own record label, and has already signed some artists. It will launch sometime in 2015.
He knows how to play the piano.
External links
References