Niall Horan

Information
Full name

Niall James Horan

Born

September 13, 1993 (age 22)

Hometown

Mullingar, County Westmeath
Republic of Ireland

Nickname

Nialler

Family

Bobby Horan, father
Maura Gallagher, mother
Chris Gallagher, stepfather
Greg Horan, brother
Denise Horan, sister-in-law
Theo Horan, nephew

Romances

Holly Scally (ex-girlfriend) Melissa Whitelaw (ex-fling) Kim Williams ( Fiancee)
Niall James Horan
[1]
(born September 13, 1993) is a member of
One Direction
 along with
Harry Styles
,
Liam Payne
, and
Louis Tomlinson
. He is the only Irish member of the band.  
Niall Horan and Kim Williams  
they are going out together we are real couple in ireland because i think is a romances  
Early Life
Niall was born in Mullingar, County Westmeath,
Ireland
. He is the son of Bobby Horan and Maura Gallagher. His only sibling is an older brother named Greg. Bobby and Maura divorced in 1998 when Niall was five years old. He lived in both parents' homes before finally settling with his dad.
[2]
He felt that living in Mullingar was the easiest thing to do at the time, because all of his friends were there.
Niall's stepfather is from England, and he has family there. Niall was a pupil at Coláiste Mhuire, Mullingar, a boys' Christian Brothers school. He got 3 B's, 3 C's and 3 D's in his Junior Certificate[3]. He has been playing guitar since he was about eleven years old, and performed around his homeland, including as a support act for Lloyd Daniels, in Dublin.
Music career
Main article: One Direction History

03:14

One Direction's Niall Horan Full Audition
In 2010, at sixteen years old, Niall auditioned for the seventh series of The X Factor UK in Dublin.[4] He sang "So Sick", and received mixed comments from the judges. Louis Walsh was in his favor, but Cheryl Cole and guest judge Katy Perry, felt he needed some time to grow. Simon voted to let him through, Cheryl said no, and Louis quickly added in his yes, and left Niall's fate up to Katy. She decided to vote yes, and Niall was put through to bootcamp.
At bootcamp, Niall sang "Champagne Supernova", but failed to qualify for the "Boys" category. After a suggestion from guest judge Nicole Scherzinger, Niall was put into a group with four other boys, who also failed to move on in the competition, but since they were too good to let go the judges decided to agree with Nicole. Niall, along with Harry Styles, Liam Payne, Louis Tomlinson, and Zayn Malik formed One Direction. Niall, along with Louis, was not given regular solos to perform during X Factor. One Direction made it to the finals where they received 3rd place.
Following The X Factor, One Direction signed a record contract with Sony Music subsidiary Syco Music . They released their first studio album, Up All Night, which went #1 worldwide. In November 2012, One Direction released Take Me Home, starting with Live While We're Young. Around this time, fans became frustrated with Niall's lack of solos on record, starting a hashtag #LetNiallSing. As of the band's third and fourth albums - Midnight Memories and FOUR - Niall has been featured much more as a lead vocalist and has his own solos on each song. On Four, he sang a number of first verses in their entirety on his own.
In June 2015, Niall told fans on Twitter he had been contributing a lot of songwriting to the band's fifth album, Made in the A.M.. He said was unable to contribute more to Four because of his leg injury, which he was recovering from during primary songwriting for that album.
Personal Life
Family
His parents are divorced, and his mom is remarried. Niall has an older brother, Greg, who often tweets about missing and feeling separated from Niall. His son, Theo, is Niall's nephew. Niall has eight cousins, some of whom live in Australia. He revealed in October 2015, that he currently lives with one of his cousins, Willie.
Relationships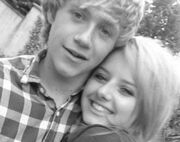 Holly Scally
Niall was dating Holly before he appeared on The X Factor (UK). He stated that they were sweethearts and that they'd be together forever. They apparently broke up in 2012 because they never saw each other enough, due to his music career.[5]
Melissa Whitelaw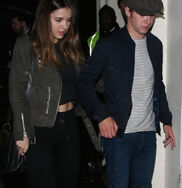 While Niall never spoke publicly about Melissa, he was spotted with the Australian 21 year old numerous times between November 2014 and April 2015. Niall also spent most of December 2014 and January 2015 in Australia, before One Direction's On The Road Again world tour began in Sydney in Feb 2015. It's believed he may have been spending time there with Whitelaw, particularly as she was spotted with him outside Sydney's Allianz stadium just before the band's first concert. She was last seen with Niall at the April 2015 Trekstock charity ball held by Liam Payne.[6]. It was widely reported the pair had split by June 2015 because of long distance.[7]
Controversies
In 2014, Ed Sheeran released a song titled Don't. The media heavily speculated the song was about Ed's girlfriend at the time, Ellie Goulding, cheating on him with Niall. While Niall has never spoken about the claims, both Ed and Ellie have denied it, with Ed stating he asked the publication who ran the story to take it down and Ellie confirming that she went on dates with Niall, but never dated Ed.[8][9] Niall and Ed remain close friends and in November 2015, Niall congratulated Ellie on the release of her album Delirium, to which she thanked him in response.
In 2012, Niall was mobbed by several fans while leaving an airport. He expressed frustration with them and called them a "shower of c**ts". He apologized for his language on Twitter later that day, but also asked fans not to stalk him.
Niall has commented on his particular talent for avoiding controversy since becoming famous, especially in comparison to his bandmates. He has said that because he tries to lead a normal life, as a result he does not court the same amount of publicity as the rest of the band seems to.
Sport
Niall is a keen golfer, regularly playing the sport in his spare time. In April 2015, he was the caddy for world No 1 golfer Rory McIlroy at the annual Masters Par 3 Contest.[10] He hopes to improve at golf during the One Direction hiatus.
Niall also regularly keeps track of various other sports, such as wrestling and soccer, often updating his predictions and thoughts on Twitter.
Credits
Credits adapted from album liner notes
Quotes
Trivia
External Links
References