Office Depot
is a store based in the USA which sells office supplies and furniture. It has stores worldwide. 2 November 2006
One Direction
In spring 2013, Office Depot revealed a new collaboration between Office Depot and 1D called 1D+OD. The collaboration would be against bullying in
US
schools and would raise money and awareness about it. A webpage on the Office Depot website was set up and a few pictures of the boys and the upcoming merchandise as well as a video which shows the boys explaining the collaboration featured on it.
On the 5th of July 2013, the full range of products were released via a tweet from the official Office Depot twitter account.[1]
Collection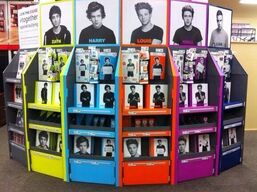 The collection consists of notebooks, folders, pens, dividers, locker decals, notepads and study buddies. Other non-stationary items included in the collection are nail polishes and silicon wristbands.
Each boy represents a different attribute and colour. Harry is "Live Nice" and sky blue. Liam is "Live True" and navy blue. Niall is "Live Confident" and purple. Zayn is "Live Unique" and neon yellow. Louis is "Live Original" and Orange. The whole band represents red. The whole collection is based on each boy and their colour.
Each boy has their own spiral notebook, round ring binder, composition book, journal, set of 3 washi tape, study buddy, locker decals, memo pad and silicon wristband. Items with the whole band on them include a spiral notebook, round ringbinder, composition book, tab dividers, roller ball pens, locker decals and nail polish.
Links
Refrences
Ad blocker interference detected!
Wikia is a free-to-use site that makes money from advertising. We have a modified experience for viewers using ad blockers

Wikia is not accessible if you've made further modifications. Remove the custom ad blocker rule(s) and the page will load as expected.