"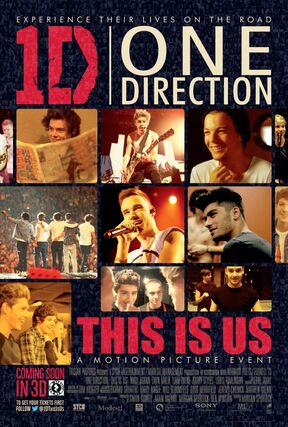 This Is Us
",
previously known as "
1D3D
",  is
One Direction
's upcoming theatrical 3D concert film.
Morgan Spurlock
will direct the film, and will also produce it along with Adam Milano, Ben Winston and the band's co-founder,
Simon Cowell
. It will be distributed by
TriStar Pictures
and released by
Sony
/
Columbia Pictures
.
[1]
It was announced for the first time by
Niall
in New York's Rockefeller Plaza, on November 12, 2012.
Background
Not long after being announced in New York, One Direction began to film it in Tokyo, Japan on January 17, 2013. Two days later, during the Team 1D Japan Party, they performed One Way Or Another (Teenage Kicks), in front of a large audience, which was later revealed to be part of the film.
After the release of the trailer on their Vevo a few weeks later, the title was guessed to be "1D3D", although it wasn't until Marth 18, 2013 when the boys revealed the official title, "This Is Us", on their twitter, with help of some fans.
Trailers
Background
On the 8th of February, Daybreak premiered a short trailer of the documentary where you could see small scenes of One Direction having fun, telling their stories behind the camera and working on their presentations. Two day later, it was officialy released on their Vevo.
Release dates
Country
Date[2]
UK
August 23, 2013
Mexico
August 30, 2013
Spain
Sweden
USA
Australia
September 19, 2013
Germany
New Zealand
Brazil
October 25, 2013
Singapore
November 7, 2013
Chile
November 21, 2013
Hong Kong
November 28, 2013
Netherlands
France
December 4, 2013
Denmark
December 5, 2013
Norway
December 6, 2013
Belgium
December 18, 2013
Argentina
December 19, 2013
Credits
Morgan Spurlock
Director

Cast

Harry Styles
Himself
Niall Horan
Himself
Zayn Malik
Himself
Louis Tomlinson
Himself
Liam Payne
Himself
Roald Smeets
Himself
Ryan Bushey
Himself (rumoured)

Production

Simon Cowell
Producers
Morgan Spurlock
Adam Milano
Ben Winston
Will Bloomfield
Executive Producers
Jeremy Chilnick
Matthew Galkin
Richard Griffiths
Harry Magee
Douglas C. Merrifield

Camera and Electrical Department

Nick Brown
Stereographer
Gareth Daley
3D engineer
Tom Grueger
Cinematographer
Geoffry Sentamu
First Assistant Camera
James Chesterson
Second Assistant Camera

Other Crew

Paul Dugdale
Filming Consultant
Faye Green
Production Assistant
Jo Wallett
Production Coordinator
Dan Watt
Executive Assistant
References