09 February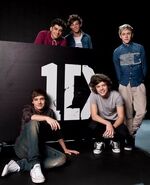 1993
2012
NiallOfficial - @Louis_Tomlinson @Harry_Styles @Real_Liam_Payne @zaynmalik . I miss you mofo's, absense makes the heart grow stonger lads!
Welcome to the

Wiki
Get Started • Create Article • Sandbox • Admins
One Direction Wiki is a collaborative encyclopaedia designed to cover everything there is to know about the British-Irish boy band, One Direction. This wiki is a fan created site which means anyone is free to edit in order to improve the content. Fans can come together and document every album, song, tour, event, TV appearance, and more!
Here's some links to give you some ideas on what needs editing.
If you're new to wikis, check out some of these help pages to get started.
69,558 edits to 704 articles since January 2011.

What's your favorite song from Made in the A.M.?