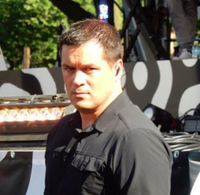 Patrick O'Brien (known by his nickname Paddy) is a security guard for One Direction.
He is specifically assigned to Liam Payne as his personal bodyguard.
Background
O'Brien was born in Ireland. He previously worked as as bouncer at Dublin nightclub Lillie's Bordello before becoming full time security for Liam Payne[1]. Liam revealed in 2014 that he shares his London house with O'Brien.
He has over 60,000 followers on social media, thanks to his association with One Direction. On August 29, 2016, O'Brien added Liam's official website to his own Twitter account.
External Links
References
Ad blocker interference detected!
Wikia is a free-to-use site that makes money from advertising. We have a modified experience for viewers using ad blockers

Wikia is not accessible if you've made further modifications. Remove the custom ad blocker rule(s) and the page will load as expected.