Sophia Smith

Information
Full name

Sophia Anne Smith

Born

February 9, 1994 (age 20)

Resides

Wolverhampton, England, United Kingdom
Sophia Smith
 was born in Wolverhampton, England on February 9th, 1994.
Background
Sophia has one sister named Zoe. Her mothers name is Anne. Sophia is currently a university student (middlesex University London) studying fashion design. She has also modeled for her friends and models her own designs.
Relationship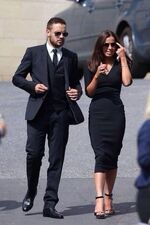 Sophia is the girlfriend of One Direction's
Liam Payne
. The two met while studying at St. Peter's Collegiate School in Wolverhampton, England. In August 2013, they were together and she has flown 5,000 miles in August to see one of the L.A. shows in the
US
during the
Take Me Home
leg of the tour. He confirmed that he was dating Sophia during an interview at the
This Is Us
press conference. However, after 8 months of dating, Liam broke up with her due to the long distance relationship being to hard for both of them.  He claimed that it wasn't fair for her to wait for him while he was on tour. Since then, Liam has tweeted about it. And shortly, got back together. The two was seen with Louis Tomlinson's mom, Johannah, In England. He has challenged her to the ALS Ice Bucket Challenge. She is accompanying him on the Where We Are Tour.
Links
References