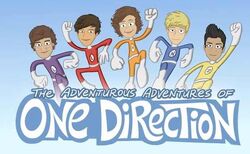 The Adventurous Adventures of One Direction
is a cartoon created about
One Direction
made by animator of the series
Archer
, Mark Alan Parsons.
Background
The cartoon saw the band transformed into superheroes to save the world at the hands of the evil Lord Faptaguise, who stole all of the world pussy cats, including Harry's cat, Molly. A Simon Cowell-alike, Psymon, is an overseeing Lord guiding the band through their mission. At the conclusion, Harry sings "Gotta Be You". In the second episode, One Direction must battle Mega Fan from taking over the world with fans. It becomes difficult with each boy, besides Zayn, who was left behind for 9 months, being distracted with seperate situations: Harry on his date with a woman, Niall on his date with a girl who has a characteristic he isn't quite fond of, Louis in search of a tissue for a nose bleed, and Liam with his fear of spoons. The cartoon has since been viewed over 40 million times on YouTube.
One Direction have watched the cartoon and Liam Payne confirmed it by saying "We loved it, there might be some more cartoons with our voices in the future."[1] Parsons met the band backstage in Atlanta during their Up All Night Tour.
It was announced on November 29, 2015, that a third series would be released over twelve days, starting December 1. The new series still features Zayn, despite his leaving the band.
Releases
Series One - May 29, 2012
Series Two - March 13, 2013
Series Three - December 1, 2015
Video
Part One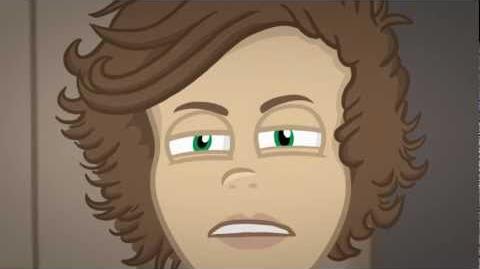 Part Two
Part Three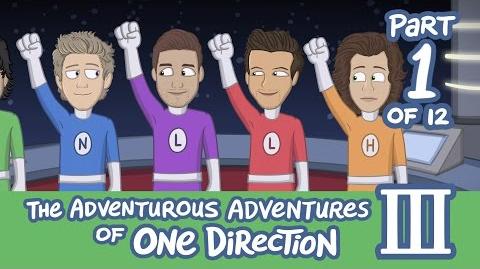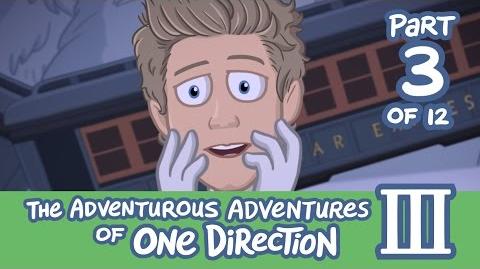 Quotes
"You tetrid titted tosser!" "- Louis Tomlinson"
"Louis, hit me in the balls!" - Harry Styles
"We can't go in two directions, we have to go in one direction" - Louis Tomlinson
"Oh, it's on like donkey kong." - Liam Payne
"What's up? Oh, like Zayn's hair? It's really up, isn't it? It's all wooooossshhhh"-Niall Horan
"NOOOOOOOOOOOOOOOOOOOOOOOOOOOOOOOOOOOOOOOOOOOOOOOOOOOOOOOOOOOOOOO..." -Harry Styles
"Stupid Spoonses! Stupid, stupid spoonses!" -Liam Payne
"What a catastrophe, or should I say, Cat-tastrophe" - Harry Styles
"That's even disgusting-er"- Liam Payne
"So the pussy cats didn't just go missing, they've been kidnapped. Or should I say cat-napped?" -Harry Styles
"Introducing Tac-os! It's meat, cheese, and lettuce flavored O's in a tortilla bowl...... it even makes the milk taste like tacos!" -Harry Styles
"Your hair...it's...um...it's a little steep. A bit like a...ski jump? Which I'm guessing is what you were going for...-Niall Horan
"I get high, with a little help from my friends."- Harry Styles
"READ MY SUBTITLES. " - Niall Horan
"It's a bomb dot com!" - Liam Payne
"Jolly Good!" -Louis Tomlinson
"Eve, eve, eve, eve...."- Harry Styles
"Bomb threat dot net."- Liam Payne
"1D come in 1D!" - Simon Cowell
"Everything is not okay, boys"- Simon Cowell
"Report to 1D HQ ASAP!"- Simon Cowell
References
Ad blocker interference detected!
Wikia is a free-to-use site that makes money from advertising. We have a modified experience for viewers using ad blockers

Wikia is not accessible if you've made further modifications. Remove the custom ad blocker rule(s) and the page will load as expected.