The Adventurous Adventures of One Direction
Comments

27
627pages on
this wiki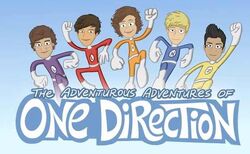 The Adventurous Adventures of One Direction
is a cartoon episode about
One Direction
made by animator of the series
Archer
,
Mark Alan Parsons.
Background
The cartoon saw the band transformed into superheroes to save the world at the hands of the evil Lord Faptaguise and shows a Simon Cowell-alike, Psymon, as an overseeing Lord. Harry also tries to win over an older woman. To the resolution of the animated-cartoon, Harry sings Gotta Be You. The cartoon has since been viewed over 20 million times on YouTube. It has a likeness to the children's TV show Power Rangers.
One Direction has seen it and Liam Payne confirmed it by saying "We loved it and there might be some more cartoons with our voices in the future."[1]
They have also met Mark. He went to their show in Atlanta of the Up All Night Tour, and met One Direction backstage.
Summary
Video
Quotes
"Louis, hit me in the balls!" - Harry Styles
"We can't go in two directions, we have to go in one direction" - Louis Tomlinson
"Oh, it's on like donkey kong." - Liam Payne
"What's up? Oh, like Zayn's hair? It's really up, isn't it? It's all wooooossshhhh"-Niall Horan
"What a catastrophe, or should I say, Cat-tastrophe" - Harry Styles
"Oh no, I'm from Ireland. And Zayn is from a wee little town in England called....Dumb-hairshire" - Niall Horan
"I'm on it like donkey kon-it" - Liam Payne
"We have to save the pussy cats!" - Harry Syles
"I'll have the tacos please!"- Harry Styles
"Tacos are not for breakfast!"- Louis Tomlinson
"That's even disgusting-er"- Liam Payne
"So the pussy cats didn't just go missing, they've been kidnapped. Or should I say cat-napped?" -Harry Styles
"Introducing Tac-os! It's meat, cheese, and lettuce flavored O's in a tortilla bowl...... it even makes the milk taste like tacos!" -Harry Styles
"Nerds!"- Zayn Malik
"Piece of pudding"- Zayn Malik
"I thought that song was about drugs though?"- Louis Tomlinson
"Your hair...it's...um...it's a little steep. A bit like a...ski jump? Which I'm guessing is what you were going for...-Niall Horan
"Oh no, Molly! Did they get Molly?!"- Harry Styles
"I thought his name was Dusty."- Louis Tomlinson
"I get high, with a little help from my friends."- Harry Styles
References