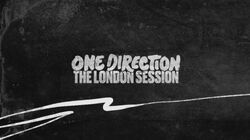 The London Session was a promotional interview and performance set held on November 14, 2015. It was an intimate special event for competition winning fans to promote One Direction's fifth album Made in the A.M. The session was presented in a four part series through Apple Music.
Events
The London Session was filmed in the same concert hall as One Direction's "Story of My Life" video. A group of roughly 50 competition winners were treated to a special dinner and taken on a tour of London before watching the live interview and performances. Before the performances began, the band requested a minute silence for the victims of the November 13 terrorist attacks in Paris. James Corden then interviewed the band, addressing various topics such as touring, the hiatus, songwriting and how each member first met during X Factor. As a fun activity, James, songwriter Julian Bunetta and the band all wrote a song on the spot, to the tune of "Drag Me Down". Corden briefly addressed the controversy surrounding "Perfect", regarding whether some lyrics referenced Harry's ex-girlfriend Taylor Swift, but Harry remained vague, saying the song's meaning was down to personal interpretation.
Setlist
Episodes
Ad blocker interference detected!
Wikia is a free-to-use site that makes money from advertising. We have a modified experience for viewers using ad blockers

Wikia is not accessible if you've made further modifications. Remove the custom ad blocker rule(s) and the page will load as expected.