The Tonight Show with Jimmy Fallon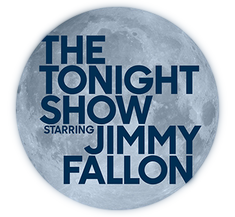 One Direction
Role
Musical Artists
Episode
December 24, 2014
Information
Format
HDTV 1080i
Created by
Sylvester L. Weaver


Steve Allen
William O. Harbach
Dwight Hemion

Theme song
"Hey, Hey, Hey, Hey"
Host
Jimmy Fallon
Country
United States
Seasons
3
Episodes
521 (as of August 26, 2016)
Production
Producers
Josh Lieb


Gavin Purcell

Locations
NBC Studios


New York, New York

Running time
60 minutes
Broadcast
Channel
NBC
Run
February 17, 2014 – present
The Tonight Show Starring Jimmy Fallon
 is an American late-night talk show hosted by Jimmy Fallon on NBC. The show premiered on February 17, 2014, and is produced by Broadway Video and Universal Television. It is the seventh incarnation of NBC's long-running 
Tonight Show
 franchise, with Fallon serving as the sixth host. The show also stars sidekick and announcer Steve Higgins and house band The Roots. 
The Tonight Show
 is produced by former 
Daily Show
 executive producer Josh Lieb and executive-produced by Lorne Michaels. The show records from Studio 6B in Rockefeller Center, New York City.
The program airs weeknights at 11:34 p.m. ET/PT. The show opens with Fallon's topical monologue, then transitions into comedic sketches/games, concluding with a guest interview and musical performance. The Tonight Show Starring Jimmy Fallon has attracted high ratings since its 2014 premiere, consistently beating competition. In addition, many moments from the series have originatedviral videos. The show has been nominated for nine Primetime Emmy Awards, winning two.
On August 13, 2015, NBC announced that Fallon signed a contract to remain as host until at least 2021.
Appearances
One Direction
December 2014
Zayn
February 2016
A Cappellas'
Ad blocker interference detected!
Wikia is a free-to-use site that makes money from advertising. We have a modified experience for viewers using ad blockers

Wikia is not accessible if you've made further modifications. Remove the custom ad blocker rule(s) and the page will load as expected.