The X Factor (UK)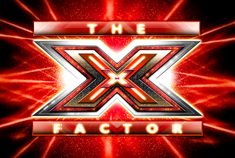 One Direction
Role
Self / Contestants
Information
Format
Reality Talent Show
Created by
Simon Cowell
Creative Directors
Brian Burke (2011–present)


Elizabeth Honan (2011–present)
Brian Friedman (2007–10)

Host
Dermot O'Leary (2007–2014)


Kate Thornton (2004–06) Caroline Flack Olly Murs

Judges
Louis Walsh (2004-2014)


Gary Barlow (2011–2013)
Kelly Rowland (2011–2013)
Tulisa Contostavlos (2011)
Simon Cowell (2004–10, 2014 - present)
Cheryl Cole (2008–10)
Dannii Minogue (2007–10)
Brian Friedman (2007)
Sharon Osbourne (2004–07) Nick Grimshaw (2015) Rita Ora (2015)

Country
United Kingdom
Voices of
Peter Dickson
Seasons
12
Episodes
358 (as of December 2015)
Production
Producers
Talkback Thames


FremantleMedia
SYCOtv

Locations
Various (auditions)


The Fountain Studios (live shows)
Wembley Arena (Finales)

Running time
45–110 minutes
Broadcast
Channel
ITV
Run
4 September 2004 – present
The X ​Factor (UK)
is a British television music competition to find new singing talent.
One Direction
appeared in 2010 during the seventh season as individual contestants. This season aired on ITV from August 21, 2010 to December 12, 2010.
Premise
The X Factor was created by Simon Cowell in September 2004 and features singers chosen from public auditions. The winner for the seventh series would receive a £1 million recording contract with the Syco Music record label. It was hosted by Dermot O'Leary, with the spin-off show The Xtra Factor currently being hosted by Caroline Flack and Olly Murs on ITV2.
2010
Main article: The X Factor (Season 7)
Harry Styles, Liam Payne, Louis Tomlinson, Niall Horan, and Zayn Malik auditioned as solo artists. All five made it through to bootcamp. However, at the end of bootcamp, all were eliminated as solo artists. As the eliminated contestants all prepared to leave, Harry, Liam, Louis, Niall, and Zayn were called back. Since the groups category was the weakest, it had been decided that five rejected soloists from the Boys category and four from the Girls category would form two groups. The boys were put through to the judge's houses round and named themselves One Direction. Simon was their mentor. At the judges' house, One Direction performed Torn by Natalie Imbruglia and succeeded onto the live shows. Ultimately, they placed third.
2011
One Direction appeared on The X Factor on November 13, 2011 for the sixth week of the live shows. They performed their new single, "Gotta Be You". On November 27, 2011, they returned to perform the charity single "Wishing on a Star" with the finalists and JLS. During the season eight live final on December 10, 2011, One Direction performed alongside JLS in a "mash-up" performance. JLS began the performance with "She Makes Me Wanna". One Direction then joined them with "What Makes You Beautiful". At the end both groups sang alternating between both songs.
2012
On October 6, 2012, One Direction made a surprise guest appearance during the first live show. They had a short interview with Dermot O'Leary where they touched on how they felt when they were on The X Factor, and advice they have for the current contestants, On November 6, 2012 during the sixth week of live shows, a pre-recorded performance of "Little Things" was aired.
2013
One Direction performed "Midnight Memories" at the grand final show on December 15, 2013.
2014
On December 14, 2014, One Direction performed "Where Do Broken Hearts Go" with Rolling Stone's guitarist Ronnie Wood during the final X Factor show.
2015
On October 24, Louis Tomlinson served as a guest judge for Simon Cowell during the Judges Houses stage of the competition.
On November 7, Liam was a special guest on the show and met contestants who performed "Drag Me Down" backstage.
One Direction performed "Perfect" on November 15 and performed "History" during the season's final episode on December 13, before their hiatus.