This Is Us
,
previously known as
1D3D movie
, is
One Direction
's theatrical 3D concert film. 
Morgan Spurlock
 directed the film, and also produced it along with Adam Milano, Ben Winston and the band's co-founder,
Simon Cowell
. It is distributed by TriStar Pictures and released by Sony Pictures/Columbia Pictures.
[1]
 It was announced for the first time by
Niall
in New York's Rockefeller Plaza, during the Today Show, on November 12, 2012.
Background
Not long after being announced in New York, One Direction began to film the movie in Tokyo, Japan on January 17, 2013. Two days later, during the Team 1D Japan Party, they performed One Way Or Another (Teenage Kicks), in front of a large audience, which was later revealed to be part of the film.
The official movie website[2] went up and included a fan mosaic, an interactive poster of the movie that contained thousands of photos submitted by fans of themselves. There was also a meme creator, exclusive photos, videos and much more on the website.
After the release of the trailer on their Vevo a few weeks later, the title was guessed to be "1D3D", although it wasn't until March 18, 2013 when the boys revealed the official title, "This Is Us", on their Twitter, with help of some fans.
A press conference was held in the morning of Monday August 19, 2013, one day before the worldwide premiere of the movie in London's Lecister Square. There were oppurtunities for photos with the movie's director Morgan Spurlock and a press conference. Afterwards, there were chances for more casual interviews with Harry and Niall together and Zayn, Louis and Liam together.
There was a twitter Q&A session held on the official This Is Us twitter account with each of the boys using the hashtag #1DMovieChat the night before the London premiere on August 19, 2013. First Zayn, then Liam, then Niall, then Louis, then Harry and Morgan Spurlock, the director of the movie. The question would be retweeted then the answer was written by This Is Us twitter account an signed off with the boy's initials.The chat began at 7:15 PM and ended at 9 PM (BST).
Extended Fan Cut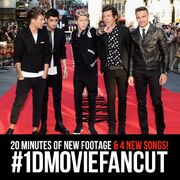 On the November 9, 2013, Niall confirmed, via twitter, that a special edition of This Is Us with 20 extra minutes and 4 songs from their previous albums
Up All Night
and
Take Me Home
was going to be released in US and Canadian cinemas
[3]
. He did add however that it would be available in more countries "soon"
[4]
. It was released in the
United Kingdom
and Europe on September 19th. 
DVD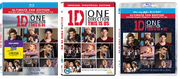 The official Amazon link
[5]
 was released in a tweet from the official One Direction twitter account
[6]
. The DVD was available for pre order from September 30, 2013. It was released in several countries on December 16th in three different editions:
One Direction: This Is Us (DVD + UV Copy)

This copy was the "Orignal Theatrical Edition".

One Direction: This Is Us (Blu-ray + UV Copy)

This copy was called the "Ultimate Fan Edition" which included the "Orignal Theatrical" + "Extended Fan Cut", all in Blu-ray.

One Direction: This Is Us (Blu-ray 3D)

This copy was called the "Ultimate Fan Edition" which included the "Orignal Theatrical" + "Extended Fan Cut", all in Blu-ray 3D on two disks.
The DVD has subtitles in the following languages: Czech, Hindi, Slovak, Portuguese, Russian, Finnish, Polish, Swedish, Estonian, Croatian, Arabic, Italian, Latvian, Hebrew, Norwegian, Slovene, Bulgarian, Hungarian, Icelandic, Romanian, Danish, Greek, Turkish, Spanish, English, Serbian
Premieres
London
Fans camped overnight before the London worldwide premiere of the movie in Leicester Square, London. There was an official Livestream by Yahoo which began at 5pm on August 20, 2013.
The hashtag #1DMoviePremiere was used to represent the premiere on twitter and around 3.6 million tweets used the hashtag and terms such as "London" and "Leicester Square" were trending for the duration of the day[7].
The boys arrived at 5:45 PM and other stars that walked the carpet include Little Mix; McFly; JLS; various youtubers such as Zoella, Alfie Deyes, Tanya Burr and Jim Chapman; Ronnie Wood and many others. The premiere ended at 7:20 PM when everyone had been admitted into Empire cinema where the film was to be shown.
New York
It was held on August 26, 2013 in New York's Midtown district and the premiere had brought the whole area to a "standstill". Some girls had been waiting for a number of days beforehand to get up close with the boys and there were thousands of screaming fans that greeted them. The boys arrived on the "black carpet" infront of the Ziegfeld Theatre, where the film was to be shown.
Other stars who walked the red carpet included Hailey Rhode and Stephen Baldwin, Perez Hilton, Kendall Schmidt (of BTR) and Emma Kenney (from Shameless) as well as many others.
Trailers
On February 8th, Daybreak premiered a short trailer of the documentary where you could see small scenes of One Direction having fun, telling their stories behind the camera and working on their presentations. Two day later, it was officially released on their VEVO.
The full trailer was released on June 25th on VEVO. The trailer also revealed a new song named "Best Song Ever" which features in the movie. Simon Cowell, the boy's mums and fans all appear in the trailer.
There were also short trailers released just 1 week before the worldwide premiere in London. First Louis'[8], then Niall's[9], Harry's[10] were released on August 15, 2013.
Release dates
Country
Date[11]
UK
August 20, 2013 (London Premiere)
Belgium
August 28, 2013
Denmark
France
Sweden
Netherlands
August 29, 2013
Argentina
Greece
UK
Singapore
Serbia
Portugal
Israel
Peru
Ireland
Hong Kong
Chile
Croatia
Bulgaria
August 30, 2013
Canada
Estonia
Finland
Lithuania
Mexico
Philippines
Poland
Romania
Spain
Taiwan
Turkey
USA
Hungary
September 5, 2013
Italy
India
September 6, 2013
Brazil
Iceland
Norway
Germany
September 12, 2013
Australia
September 19, 2013
New Zealand
Macedonia
Venezuela
September 27, 2013
Japan
November 1, 2013
Credits
Produced by

Will Bloomfield
executive producer
Jeremy Chilnick
executive producer
Simon Cowell
producer
Matthew Galkin
executive producer
Richard Griffiths
executive producer
Harry Magee
executive producer
Douglas C. Merrifield
executive producer
Adam Milano
producer
Morgan Spurlock
producer
Danny James Walton
associate producer (as Danny Walton)
Ben Winston
producer
Makeup Department

Adrian Rigby
prosthetic makeup artist
Becca Smith
prosthetic makeup artist
Production Management

Mark Harris
post-production supervisor
Douglas C. Merrifield
unit production manager
Art Department

Jim McKenzie
concept artist
Sound Department

Hugo Adams
foley editor
Nick Adams
sound editor
Peter Burgis
foley artist
Freddie Claire
sound recordist
Vincent Cosson
additional sound re-recording mixer
Amy Felton
sound assistant
Samir Foco
sound editor
Ethan Goldberger
production sound mixer
Peter Hanson
assistant foley mixer
Sue Harding
foley artist
Richard Lovell
sound mix technician
Paul Massey
sound re-recording mixer
Emmet O'Donnell
assistant sound editor
Jamie Roden
dialogue editor
Jamie Roden
sound re-recording mixer
Bjorn Ole Schroeder
dialogue editor
John Warhurst
supervising sound editor
Robert Karlsson
dolby sound consultant (uncredited)
Visual Effects by

Priyanka Balasubramanian
visual effects producer
Chloe Dai
stereoscopic conversion supervisor: Southbay MPT
Peter Doyle
supervising digital colourist
Wesley Froud
visual effects
Tao Han
stereoscopic conversion lead artist: Southbay MPT
Sebastian Hesselsjö
digital compositor: BlueBolt
Shangshi Jin
stereoscopic conversion lead artist: Southbay MPT
Zhiming Kong
stereoscopic conversion lead artist: Southbay MPT
Daqin Li
stereoscopic conversion lead artist: Southbay MPT
Wen Li
stereo conversion colead: Southbay MPT
Zhubing Liu
stereoscopic conversion lead: Southbay MPT
Jiawei Luo
stereoscopic conversion lead artist: Southbay MPT
Bin Meng
stereoscopic conversion lead artist: Southbay MPT
Shangrong Pan
stereo QC lead: Southbay MPT
Christian Poullay
matchmove artist
Pierre-Hugues Routhier
stereoscopic supervisor
Xiaobo Shan
stereo QC lead: Southbay MPT
Jie Shen
stereoscopic manager: Southbay MPT
Qin Wang
stereoscopic conversion lead artist: Southbay MPT
Mark Webb
visual effects coordinator: bluebolt
Zhihui Yin
stereo QC lead: Southbay MPT
Feng Zhang
rendering lead: Southbay MPT
Camera and Electrical Department

Nick Brown
stereographer
James Chesterton
second assistant camera
Gareth Daley
3d engineer
Harry Dibden
camera trainee
Tom Dixon
senior dailies operator
Laurence Edwards
stabilized head technician
Joe Finan
technocrane operator
Kevin French
camera operator
Tristan Hey
senior dailies operator
David Holliday
dolly grip
Tom Krueger
cinematographer
Daniel Lillie
camera trainee
Rupert Lloyd-Parry
key grip
Seán McDermott
camera trainee
Peter Myslowski
best boy grip
Mark Nutkins
first assistant camera
Geoffrey Sentamu
first assistant camera
Luke Stone
dolly grip
Henry Tirl
Steadicam operator
Neil Tomlin
crane/head technician
Laurence J. Wigfield
second assistant camera
Animation Department

Miguel Rato
motion designer
Editorial Department

Tom Davis
assistant editor
Gershon Hinkson
first assistant editor
Katura Jensen
post-production coordinator
Adam Schaefer
apprentice editor
Robert Sealey
post-production assistant
Adam Sonnenfeld

edit room assistant
Music Department

Robert Houston
music editor
Carlton Kaller
music editor
Kier Lehman
music supervisor
Sam Okell
mix engineer: songs
Transportation Department

Gary Birmingham
transportation coordinator
Other crew

Laura Anderson
accounting assistant
Jp Caldeano
crew support
Paul Dugdale
filming consultant
Faye Green
production assistant
Paula Hind
production secretary
James R. Kipping
production assistant
David McCarthy
caterer
Richard Morrison
title designer
Leo Pearlman
production executive
Jo Wallett
production coordinator
Dean Wares
title designer
Dan Watt
executive assistant
Sophie White
production assistant
References