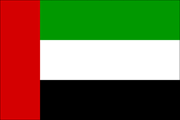 United Arab Emirates (UAE) is a country which is part the Asian leg of One Direction's On the Road Again Tour.
Tours
United Arab Emirates was visited in the following tour.
On the Road Again Tour
The following concert which is part of the tour took place in United Arab Emirates:
April 2015
Date
City
Venue
Dubai
4
Dubai
7HE Sevens
Ad blocker interference detected!
Wikia is a free-to-use site that makes money from advertising. We have a modified experience for viewers using ad blockers

Wikia is not accessible if you've made further modifications. Remove the custom ad blocker rule(s) and the page will load as expected.