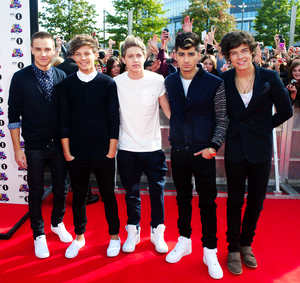 We each have our personal favorite out of all the members of One Direction, but which boy is really meant for you? Now is your chance to find out! We are building a "Who's Your One Direction Soulmate?" quiz, but we need YOUR help. So, calling all One Directioners, use all your knowledge of each One Direction member's likes and dislikes to find out who is meant for you!
To help out, submit a question that you think belongs on the quiz, but your question needs to be fairly vague to keep the mystery of the final result alive! When you submit your question, please include the result for each answer option. For example,
Which is your favorite color?
a) Orange - Harry
b) Purple - Liam
c) Red - Louis
d) Green - Niall
e) Blue - Zayn

To qualify to have your question and answer be featured in the quiz, please make sure you format it like the question above including the question, the answers, and the character each answer pertains too.
---
---
Ad blocker interference detected!
Wikia is a free-to-use site that makes money from advertising. We have a modified experience for viewers using ad blockers

Wikia is not accessible if you've made further modifications. Remove the custom ad blocker rule(s) and the page will load as expected.