"You & I"

Information
Album
Released

May 26, 2014[1]

Format

Digital download

Recorded

2013

Length

3:57

Writers

John Ryan, Julian Bunetta, Jamie Scott

Producer

Julian Bunetta, John Ryan
You & I
is a song by
One Direction
from their album 
Midnight Memories
. It is the fifth track of the album and the fourth single. The accompanying music video was released on April 18, 2014.
[2]
The song was a top 20 single in the UK and a top 10 single in Ireland. The song has been performed on
Where We Are Tour
and the
On The Road Again Tour
. It is widely considered to be
Zayn Malik
's standout vocal performance.
Background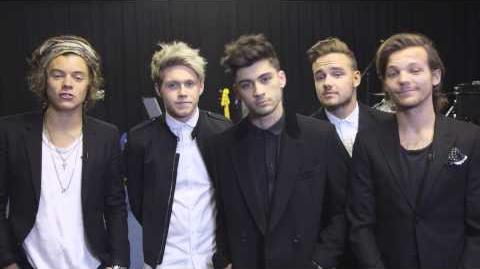 One Direction announced You & I was to be the fourth single from 
Midnight Memories
through a seven second YouTube video
[3]
 on April 11, 2014. The band was seen filming the video on March 24th in Somerset. The video was directed by Ben Winston (
Best Song Ever
,
Story of My Life
). They also offered fans the chance to remix their own version of the track, upload it onto SoundCloud, and then Liam would be picking a few for a special 1D playlist, also on SoundCloud
[4]
.
The official audio for the radio edit was uploaded to YouTube on April 14th ahead of the single release on April 18th[5]. A short video message by Liam was also posted on April 14th where he stated if you pre-ordered the You & I bundle on iTunes, you would also receive a special message from the band, as well as a special remix by him called the "Big Payno Remix"[6].
Australian band Clubfeet claimed the music video plagiarized their own video for a song called "Everything You Wanted".[7] In 2015, the music video won a BRIT Award for "Best British Video". The band did not attend the awards ceremony.
Lyrics
[Niall]
I figured it out
I figured it out from black and white
Seconds and hours
Maybe they had to take some time

[Liam]
I know how it goes
I know how it goes from wrong and right
Silence and sound
Did they ever hold each other tight like us
Did they ever fight like us

[Harry]
You and I
We don't wanna be like them
We can make it till the end
Nothing can come between you and I
Not even the Gods above can separate the two of us
No nothing can come between you and I
Oh, you and I

[Zayn]
I figured it out
Saw the mistakes of up and down
Meet in the middle
There's always room for common ground

[Louis]
I see what it's like
I see what it's like for day and night
Never together
Cause they see things in a different light like us
Did they ever try like us?

[Harry]
You and I
We don't wanna be like them
We can make it till the end
Nothing can come between you and I
Not even the Gods above can separate the two of us

[Instrumental]

[Zayn]
'Cause You and I

[All]
We don't wanna be like them
We can make it till the end
Nothing can come between you and I
Not even the Gods above can separate the two of us
No nothing can come between you and I
Oh, you and I
You and I
We could make it if we try
You and I, you and I
Live Performances
May 24 - BBC Radio 1's Big Weekend 2014
Music Video
Music Video
Information

04:05

One Direction - You & I

Released
April 18, 2014
Length
4:04
Director
Ben Winston
Production Co
Choreographer
Filmed
March 2014
Location
Clevedon, Somerset, England[8]
VEVO views
199,223,792
Credits
Writers - John Ryan, Julian Bunetta, Jamie Scott
Producers - John Ryan, Julian Bunetta
References