"You & I"

Information
Album
Released

May 26, 2014[1]

Format

Digital download

Recorded

2013

Length

3:57

Writers

John Ryan, Julian Bunetta, Jamie Scott
You & I
is a song by
One Direction
from their album 
Midnight Memories
. It is the fifth track of the album. It is the fourth single to be released from the album. The accompanying music video was released on April 18, 2014.
[2]
Background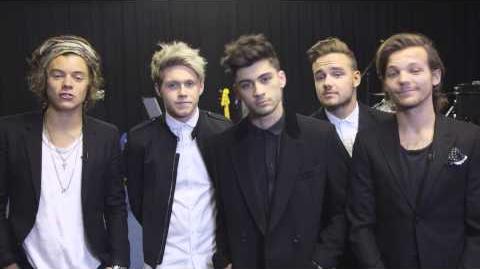 One Direction announced You & I to be the fourth single from 
Midnight Memories
through a seven second YouTube video
[3]
 on April 11, 2014. The boys were seen filming on March 24th and the announcement confirmed that it was in fact for the music video. The video was directed by Ben Winston (he also directed/produced: A Year In The Making, This Is Us, Best Song Ever and Story Of My Life). They also offered fans the chance to remix their own version of the track, upload it onto SoundCloud, and then Liam would be picking a few for a special 1D playlist, also on SoundCloud
[4]
.
The official audio for the radio edit was uploaded to YouTube on April 14th ahead of the single release on April 18th[5]. A short video message by Liam was also posted on April 14th where he stated if you pre-ordered the You & I bundle on iTunes, you would also receive a special message from the boys and a special remix by him called the "Big Payno Remix"[6].
Lyrics
[Niall]
I figured it out
I figured it out from black and white
Seconds and hours
Maybe they had to take some time

[Liam]
I know how it goes
I know how it goes from wrong and right
Silence and sound
Did they ever hold each other tight like us
Did they ever fight like us

[Harry]
You and I
We don't wanna be like them
We can make it till the end
Nothing can come between you and I
Not even the Gods above can separate the two of us
No nothing can come between you and I
Oh, you and I

[Zayn]
I figured it out
Saw the mistakes of up and down
Meet in the middle
There's always room for common ground
Louis: I see what it's like
I see what it's like for day and night
Never together
Cause they see things in a different light like us
Did they ever try like us?

[Harry]
You and I
We don't wanna be like them
We can make it till the end
Nothing can come between you and I
Not even the Gods above can separate the two of us

[Instrumental]

[Zayn]
'Cause You and I

[All]
We don't wanna be like them
We can make it till the end
Nothing can come between you and I
Not even the Gods above can separate the two of us
No nothing can come between you and I
Oh, you and I
You and I
We could make it if we try
You and I, you and I
Music Video
Music Video
Information

04:05

One Direction - You & I

Released
April 18, 2014
Length
4:04
Director
Ben Winston
Production Co
Choreographer
Filmed
March 2014
Location
Clevedon, Somerset, England[7]
VEVO views
71 million+
Credits
Writers - John Ryan, Julian Bunetta, Jamie Scott
Producers - John Ryan, Julian Bunetta
References